Blog posts, articles, a landing page ready for new leads: we post them massively on Facebook in the hope that we'll get some additional visitors. It was a useful feature that you could easily customize the data of that posted link. After all, the title, description and photo that are automatically loaded are often less suitable. Well, unfortunately, this is no longer so easy.
Just to be clear, we are talking about this possibility.
According to a press release from Facebook, the function disappears mainly to counter fake news.
"By removing the ability to customize link metadata (i.e., headline, description, image) from all link sharing entry points on Facebook, we are eliminating a channel that has been abused to post false news."
The fight against 'fake news' became serious after the American presidential elections. Facebook came up with a feature that makes it possible to report suspicious content. Sometimes you see the result of that appearing in your timeline. Those posts will then contain a 'disputed content' label, indicating that there are concerns about the content. If you click on it, you get an explanation. The question is: will this have any result? We consider this adjustment rather as a means against click bait, you know, those posts with a tempting title. Once you click through, you get totally different information than the title suggested. We've all fallen for this.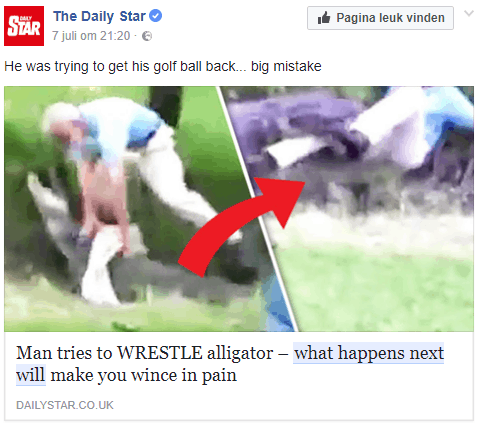 Consequences for social media managers
For social media agencies, losing this function is a difficult issue. They are not always in direct contact with the people who created the content on that link, for example because the client himself manages his blog. One of their tasks is to find a custom title, description or image for the Facebook posts. Not because the existing one is bad, but often just because it would be noticed better. This is no longer possible. Or is it?
Fortunately there are 2 (less convenient) solutions
Solution 1: Avoid the problem
Our expectation is that the problem will be avoided for a while. We will see fewer embedded links, but more images / videos with a link in the copy above. As in this example.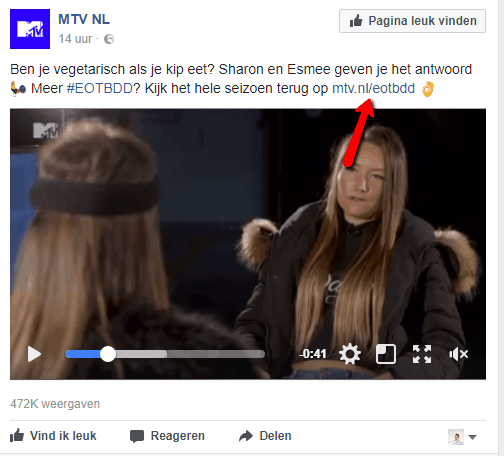 Solution 2: Submit OG Metadata via CMS
OG metadata (the title, description and image that will be automatically loaded when a link is posted on Facebook) can be submitted through your CMS. Not every platform offers that option yet, but this will undoubtedly change. If social media managers get access to that part of the CMS, or are in direct contact with someone who can make these adjustments in the back end, the problem is solved: they can enter the data and load them correctly on Facebook. Changes to the embedded link will no longer be required, because the correct title, description and image have already been submitted through the CMS. The only question is: what about the timing? Is the social media specialist directly involved in the production of content or is the content manager always ready to help the social media manager when he is planning to post? A custom content production process is therefore needed.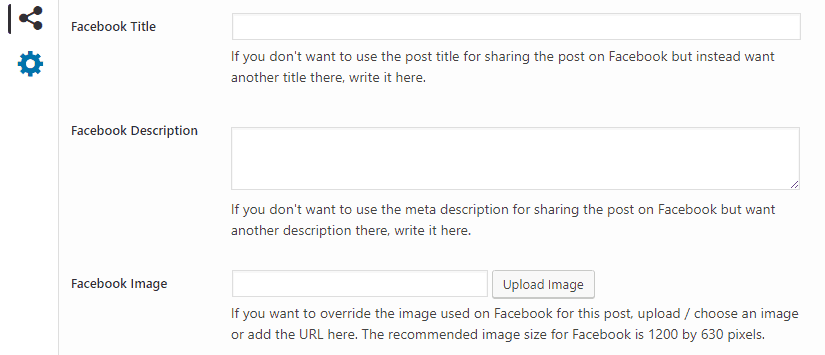 If you already have access to the CMS, then there is obviously no problem. You can enter the OG metadata whenever you're ready. If this possibility does not yet exist, ask your developer to make the necessary adjustments. From that moment on, all you need to do is make it a habit to submit your OG metadata not in Facebook, but in your CMS.
Set Metadata in WordPress
For those companies with WordPress, we suggest installing the Yoast plugin. You may already be using it to optimize your SEO metadata. You can do the same for your OG metadata.
Test your settings with the debugger
Everything neatly set up via your CMS? Does your content provider say that everything is alright? Facebook has designed an online debug tool to test it. Just copy and paste your link and you'll see a preview, including all meta tags. Definitely a tool that you have to add to your bookmarks!

Conclusion
'Fake news' will not completely be discouraged by this change. Even click bait can not be prevented. The change may well be annoying rather than useful. But we will have to adjust, no way to get around that fact. Fortunately, we have several options listed above.
Success with the adjustment, hopefully it will be smooth.