Fuck! Marketing is so difficult these days!

Thierry De Vynck
Thierry De Vynck of event organizer Dallas Antwerp hits the nail right on the head with said remark. The plentitude of strategies, channels and tools haven't exactly lightened the marketer's task. What's inbound marketing all about? How should we approach it? Marc Waelbers gives a sneak preview: "Inbound marketing is all about trust. It's knowing what's in the heads of your customers. It's knowing what they're thinking, what they want, what they're feeling. As soon as you know that, you can start building trust." Yep, that's what it's all about: the trust of your (potential) client.
Getting started with inbound marketing
American Paul Roetzer's 27 quick wins for inbound marketing include plenty of ready-to-use ideas to get you started straight away:
Subscribe checkbox. Add a checkbox to each form on your website to enable visitors to subscribe to your newsletter easily.
Live chat. A very convenient and often free tool to answer clients' questions immediately, a pop-up live chat gives the visitor the possibility to chat directly to an employee of the company. You'll find our live chat in the right bottom of this page.
FAQ. Use Google to find out which questions are being asked about your product. Answer those on your website.
Repurpose content. Update your old content and share it on another network, such as SlideShare, LinkedIn or Medium. Share your content more than once.
CRO. Analyze the 10 most important pages of your website and check if they're leading to conversions optimally.
Comparison Matrix. Don't hesitate to compare yourself to your competitors. Your client will do so anyway – it's better to be prepared.
With a firm eye on the future, Roetzer subsequently shows how Artificial Intelligence (AI) can push your marketing strategy to the next level. It's a matter of time before tools will write emails automatically, drive content, offer real-time insights into your results or tell you what your competitors are doing.
10 inbound learnings in a row
1. Know your audience
Interview at least five current clients before you get started with inbound marketing. Get to know who your clients are and create valuable content for them. Dallas' Thierry De Vynck believes everything starts with knowing your client.
2. Choose quality over quantity
"It's not about producing content, it's about being remarkable at that", says Tom De Bruyne (SUE Amsterdam). He emphasizes the importance of noteworthy, distinctive and unique content.
3. Distribution of content is as important as its creation
Creating strong content is incredibly time-consuming. Many companies make the mistake to distribute that content hastily. "Wrong!" states Thierry De Vynck. The distribution of your content deserves at least the same amount of time as its production.
4. Plan ahead
Schedule your content for the next month or two. Plan everything in advance, but be flexible! You should be able to change your plans at all times. Analyze the results, learn from them and improve.
5. Video, video, video
"By 2019, 80% of all internet traffic will be video." Using a couple of fun examples, Yan Ketelers (StoryMe) shows how you can employ videos during all the stages of the buyer's journey. His advice? Start today. Invest time in live video, set up a YouTube channel and spread your message with a LinkedIn video.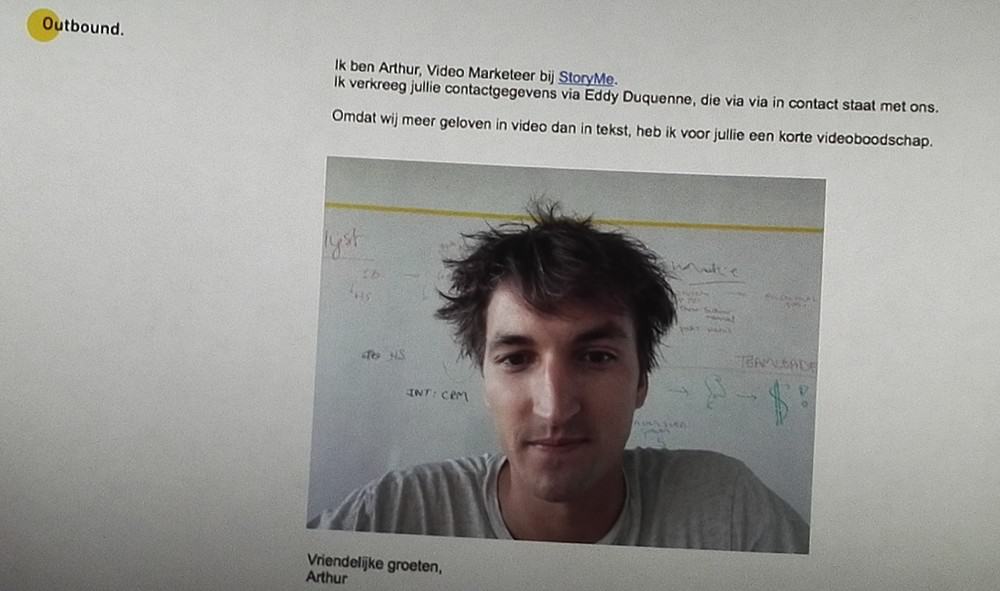 6. Be creative
From the creative perspective, inbound marketing is 'a match made in hell'. Creativity means chaos, whereas inbound marketing thrives on structure. As a creative, you shouldn't try to change the inbound machine. It's better to accept certain things as a given, and to decide what you can contribute. As creative Stijn Gansemans puts it: "Creativity is about solving a problem in a creative, disruptive way."
7. Color matters
Thierry Lescrauwaet (UMAN360°) believes that the importance of color in marketing is being seriously underestimated. He thinks the use of correct colors can increase the effectivity of your website significantly.
8. Measurement is the key to knowledge
If data are so important, then how come we don't know every detail of our results? Lonneke Spinhof emphasizes the importance of key performance indicators (KPIs). Don't ask: 'What should we know?', focus rather on: 'What do we want to know?'
9. Get feedback and learn from the behavior of your visitors
It pays to analyze the behavior of your website's visitors. Try to identify patterns. What's working and what isn't? What's stopping your visitors to click further? According to Hotjar's Nick Heim, surveys are key in finding answers to these questions. "Combine the how and the why to understand the bigger picture."
10. Answer the questions of your clients
Are you prepared to share the information your client is after? Or do you do things your way? Marcus Sheridan points out that every company is the same. Price information, potential problems, a comparison with the competition, reviews and the inevitable question about 'who's the best' – those are the five topics that companies don't like to talk about. They're also the ones your client eyes most eagerly.
Honesty is the best policy…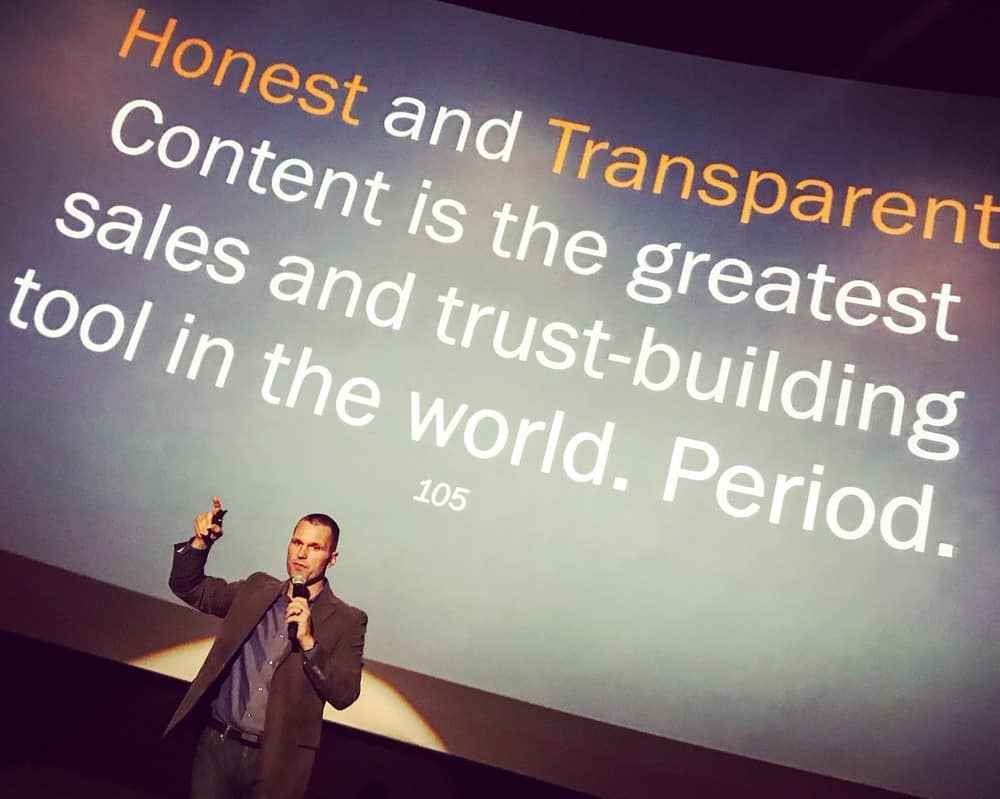 …and pays off in the end. In a hilarious, but well-thought-out plea, Marcus Sheridan convinces his audience that everything starts with confidence. He describes it as "a culture of listeners and teachers" – you ask your client what he'd like to know and answer his questions in an honest and truthful manner. Summarized: "They ask. You answer." Which is also the title of Sheridan's book and the 'revolutionary' approach he advocates. An incredible amount of the decisions a marketer makes, are born out of a fear to lose customers. Just think about pricing, which is blatantly lacking from many websites. But: when you decide to omit such information, Sheridan claims, you're casting doubts in the minds of visitors. Before you know it, they are gone. Sheridan doesn't beat around the bush: "The average amount of time a user will stay on your website when he cannot find what he's looking for is 10 seconds." Honesty is the best policy. Gather the courage to answer all your client's questions honestly and sincerely. You'll reap the benefits afterwards.