This month, Google will be changing the algorithm for mobile searches. What should you do to avoid dropping in rank?
If you're an SEO enthusiast, you will have probably heard the news: starting from April 21, 2015, the Google rankings for certain keywords will change depending on the mobile-friendliness of the website. How will this affect your website? Should you be worried? Is there time to adjust?
This article will answer just that. We kick off with a short summary about how the algorithms worked before this update. Then, we take a look at what Google aims to achieve. Finally, we give you hands-on-advice to test and quickly improve the mobile-friendliness of your website.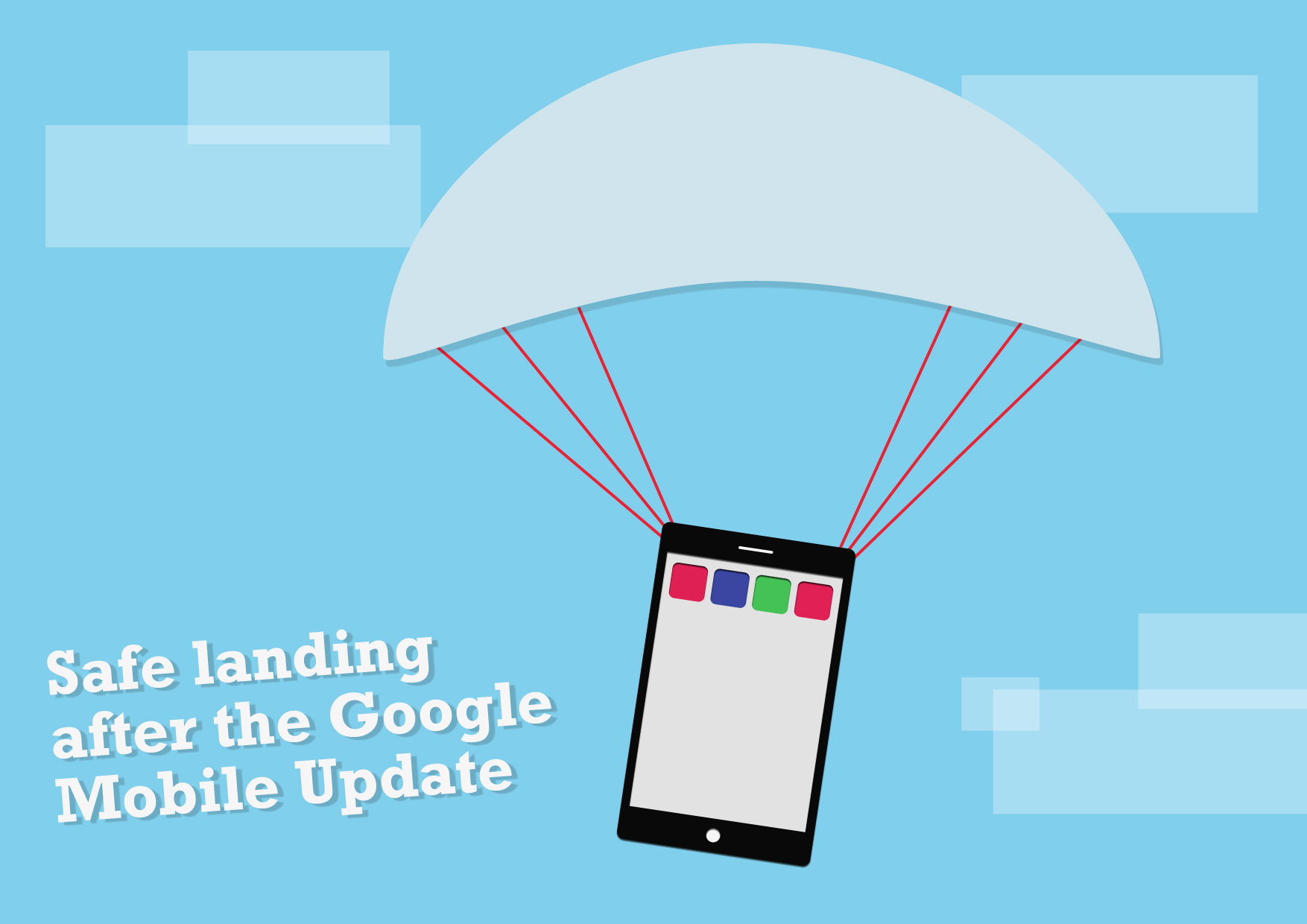 But before we do, we can answer the question of "should I be worried?" with: there's no real reason to panic. Yes, this algorithm update will most definitely affect organic search results, but the impact can be both positive and negative. And, in case of the latter, there are various options available to make quick adjustments. We'll assist you in this with a nifty tool: our Google Analytics dashboard. This will allow you to measure your site's mobile search results before, during and after the update.
Download our free Google Analytics dashboard here.
The prelude
The mobile-friendly tag was introduced in November of last year, showing the (lack of) mobile-friendliness of a website in the search results. However, it was just that, a label, and it never directly influenced the rankings. Still, it was a clear sign of things to come.
Following this, for various websites we noticed the following message appear in Google Webmaster Tools: Fix mobile usability issues found on your site. With different links leading to a useful reference work, Google urged all webmasters to get this message fixed.
And now, ever since last month, Google released an official statement on Webmaster Central Blog. Starting from April 21, the level of mobile-friendliness of your site will factor into search query rankings from a mobile device.
What is Google's goal?
Google still wants the same thing as when they first started out: provide the user with sites that have the best possible answer to their question. Nevertheless, seeing as the internet is subject to continuous change, Google follows suit. Whereas the relevance to the answer used to suffice, the search engine now factors in other elements. One example we already touched upon is HTTPS Everywhere: Google gave sites with a secure connection a competitive edge.
Seeing as how more and more people surf the web on a mobile device, Google will now take this into account. To whoever performs mobile search queries, a good answer now means: having a site that is properly displayed and easily navigated on a smartphone.
In that sense, this update differs from the Panda and Penguin updates, where Google penalized sites who attempted to avert the changes through clever tricks in order to boost their incoming traffic. The mobile-friendly tag will allow Google to favour websites that focus on providing the user with an optimal experience. Reward over punishment.
How do you quickly make your site mobile-friendly?
There's various ways to do this. We will explore them here.
First, check if Google sees your site as mobile-friendly. Did you get one of those messages in Google Webmaster Tools? You can also scan your different pages with this test , developed by Google itself. Just make sure you test all different kinds of pages instead of just your homepage.
If you're still using an older design that ignores mobile traffic, a redesign would definitely be your best option. While Google offers you the opportunities to create a (separate) mobile site, the importance of responsive design is on the rise. This is by far the best option because it keeps things simple for the webmaster: a single HTML version displays itself differently on different devices. This is far easier than a separate mobile site (m.example.com) or even more complex: a dynamic display where different HTML versions are served on one URL.
That said, the deadline of April 21 might prevent you from finishing a Responsive Webdesign on time. That's why we'll mention a few blocking elements here. By solving them, you still won't have an optimal design, but you'll stand a better chance at passing the mobile-friendly test:
Make sure that Google picks up on all your page sources. To gauge your site for mobile-friendliness, Google will have to know how the site is being displayed. The crawler thus needs access to the CSS, JavaScript and images. When you fail to provide access to these sources (through robots.txt), Google cannot view your site like a user would in his browser.
Define a viewport (with the meta viewport tag). This way, you tell the browser how it should adjust the measurements of the page and scale it to fit on the screen. Read more about this in Google's web fundamentals.
Adjust the content in the viewport (meaning: no absolute values in CSS statements or the use of CSS media queries). We are accustomed to scrolling vertically, not horizontally. Zooming in and out can be a bother as well. Google measures and considers this for its assessment. Read more about it in Google's web fundamentals.
Ensure all text is readable. Google will look at the size of your text. If your text is too small on a mobile device, the ill configuration of your viewport is likely the culprit (it influences how your text gets scaled). If you use different fonts, it's best to just make them relative to a base font. Read more about this in Google's web fundamentals.
Ensure touchscreens can easily navigate your site. When buttons or links are too close together, the user is hindered. They either press the wrong button or link and end up on a wrong page. Google is capable of seeing whether the space between various elements is sufficient. Read more about this in Google's web fundamentals.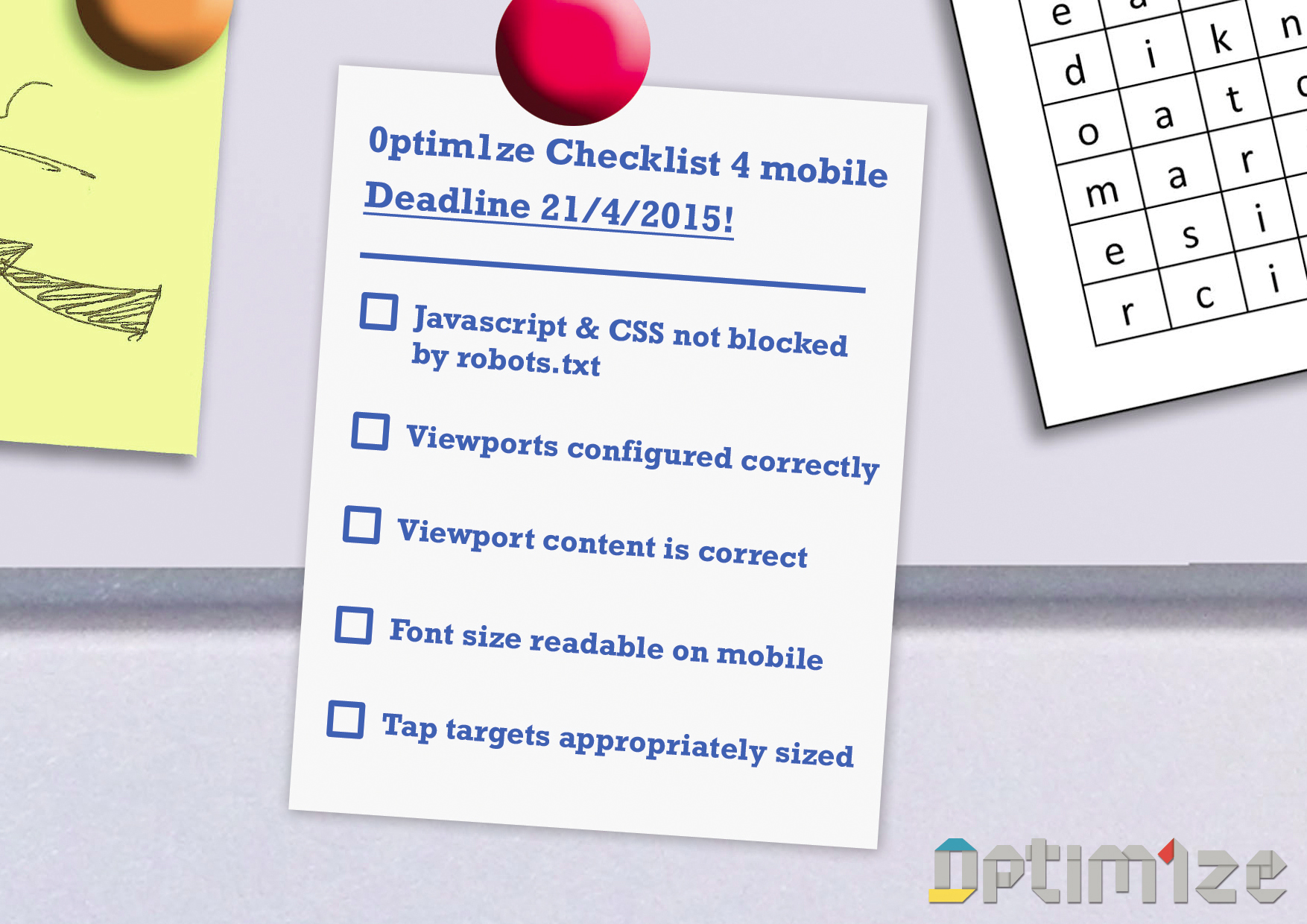 How does my site rank with Google?
Our free Google Analytics dashboard allows you to easily see how Google views the mobile-friendliness of your website and how important the changes in Google's ranking-algorithm can be for you.
Please also look at the search queries in Google Webmaster tools. You can select 'mobile' through the Filter. This will show you your current position and enables you to track the situation before and after April 21.
Some factors that can determine the results are:
Is there a lot of traffic to your site from mobile and organic search? How does it compare to desktop traffic?
What's the bounce rate of mobile visitors to your site? If it's high, there's a low conversion for these visitors.
Be sure to check out multi-channel attribution combined with device. How many people come from mobile and organic search?
How are your competitors doing? Did they finish their mobile-friendly design?

Conclusion
The web is host to numerous opinions. According to search engine land, Zineb Ait Bahajji from Google's Webmaster Trends commented that the impact on search results will be larger than the Penguin and Panda updates. Mobile search queries will definitely have an impact on rankings. Whether the possible loss will be big or small is still hard for us to guess. That said, the success of a website is not only determined by search engines. The fact that the user has come to expect a proper mobile design, is clear-cut.
After all, your mobile-friendly design is primarily there to serve the user, it's not just for SEO.
And finally: there's a winner for every loser. If you have a decent mobile-friendly website and your competitors don't, you can start looking forward to better rankings.